Hocus Pocus Halloween Treats
 
The scary countdown is on for Halloween 2021!
Bring on some spooky fun with the Great Ocean Road Chocolaterie's at home kits, where handcrafted spiders taste sweet, eyeballs are choc full of marshmallows and white chocolate witches conjure up a spell for fantastically frightening fun!
Chocolatey Spooky Creatures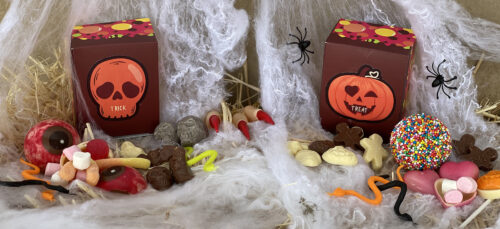 Discover our Trick or Treat boxes, overflowing with deliciously spooky lolly filled eyeballs, chocolate lollipops and fluffy marshmallow filled hearts made by our talented Chocolatiers!
For a harrowing Halloween activity, why not try our Cookie Making and Decorating DIY Kit creating your very own cauldron creations with mixed sweet jellies, decadent chocolate pastilles, flavoursome cookie mix and more.
Or if big chocolate spiders don't scare you, there is also a Spooky Creatures Chocolate Making DIY Kit with everything you need to make and decorate pumpkins, bats and spiders topped with sweet mixed treats.
Our Halloween Tricks and Treats are available now to order
online until 31 October or pop in and see us at the Chocolaterie.

Welcome back Ghouls and all

With the reopening of the Surf Coast we're enjoying welcoming back all ages for reunions with your friends and family.
Our grounds are looking spectacular for you to enjoy, our ice creams are being churned every day and you can sit down and enjoy a savoury or sweet treat from the café and on the weekends also from our outdoor kiosk.
We're open every day, 9am – 5pm
We look forward to welcoming you back soon to our sweet destination on the Surf Coast or bringing some sweet cheer to you via our online e-store. Your ongoing support of our family business means the world to us…
Ian & Leanne Neeland