Your favourite Hot Chocolate Festival 
flavours 
make one last appearance…

We've been so thrilled by your love of our 2021 Hot Chocolate Festival, we just had to release a special edition menu of your favourite flavours!So if you need one last hot choc fix – or missed out on the Festival fun – we've put together the most popular flavours for one last hurrah!
Check out the Festival Favourites below, they'll arrive as DIY boxes filled with everything you need to whisk up eight different creations at home. We're delivering near, far, anywhere in
Australia to bring some decadence to Lockdown.
Thank you so much for your support of our Yarra Valley, Great Ocean Road and Mornington Peninsula Chocolateries, we've loved being able to share the talents of our
team and bring some Hot Chocolate Festival fun to your homes.
With choc loads of gratitude,
Ian & Leanne Neeland
'Festival Favourites'
available until 12 September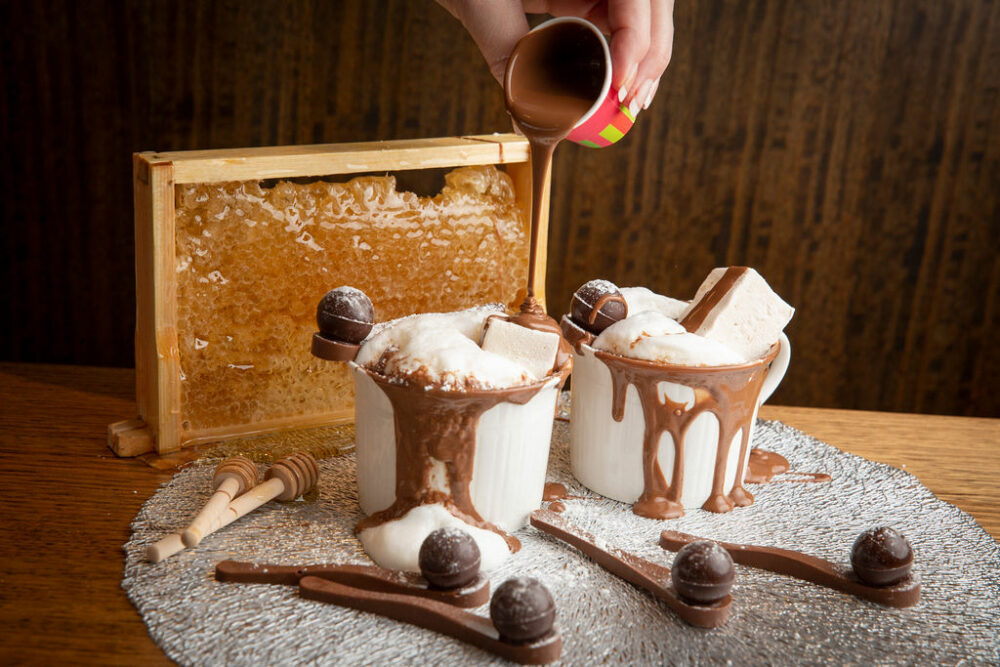 And here they are – your favourite flavours from our 2021 Hot Chocolate
Festival.  What will you order for one last indulgence? You can pick and mix your own selection or order the full set to be sent to your door!
Snow Honey
Bring some warmth and comfort on a chilly night with this soothing honeycomb milk hot chocolate served with a chocolate spoon, Cognac spiked chocolate ball and honey marshmallow.
Nutella Wagon Wheel Slurp
Get dunking our house-made nutella, vanilla marshmallow and berry jam Wagon Wheel coated in chocolate and crushed golden hazelnuts. It's shaped like a donut and comes with a straw ready to slurp away your hazelnut hot chocolate!
Tim Tam Caramel Bomb
We've dared to mess with the greatest biscuit to grace our shores. Our version of a caramel Tim Tam is handcrafted into a giant ball ready to slam dunk into your caramel hot chocolate!
Bee Nutty
Get a buzz dipping your honeycomb beehive into a steaming mug of macadamia hot chocolate and watch your queen bee work her magic as she melts away. Enjoy your layered honey marshmallow!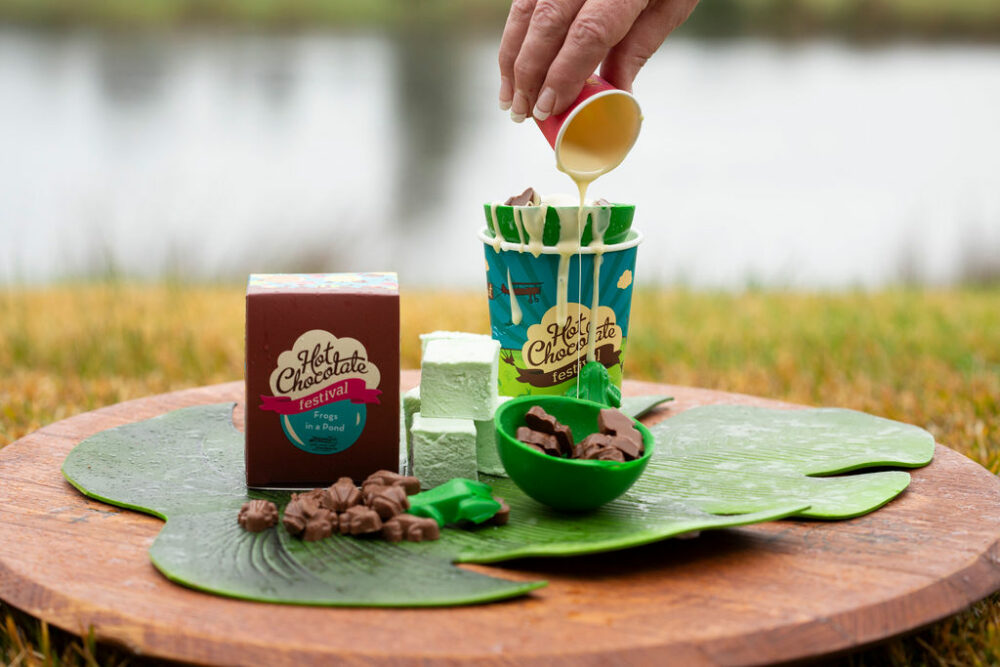 Frogs in a Pond
In your pond lives a large green chocolate frog with his little minty friends ready to melt in your steamy hot chocolate with a giant floating mint marshmallow.
Mars Attacks 
Your hot choc is invaded by a green martian filled with out of this world goey caramel and nougat. Will the caramel flying saucers and chocolate marshmallow win the day?
Salted Caramel Obsession
A flavour explosion of everything salted caramel – drop your caramel egg filled with gooey salted caramel and fluffy caramel marshmallow into your lip smackingly delicious salted caramel hot chocolate and devour your caramel marshmallow… Too much? Never!
Minion Madness
Your two handcrafted chocolate Minions are ready to drop into a creamy banana hot chocolate and fight off your fluffy banana hot chocolate!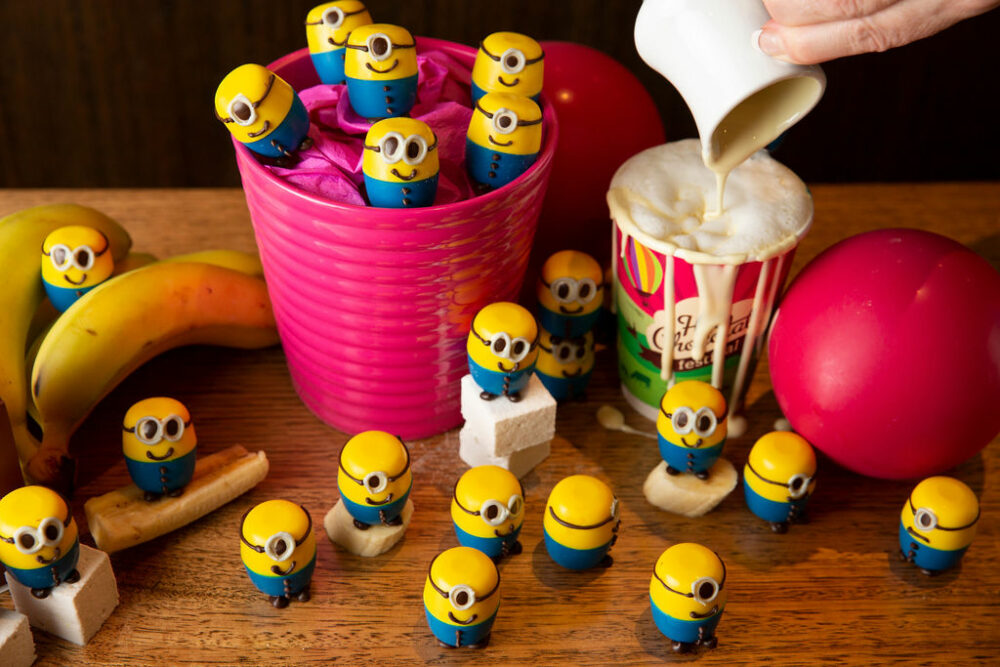 Order online for one last hot choc fix!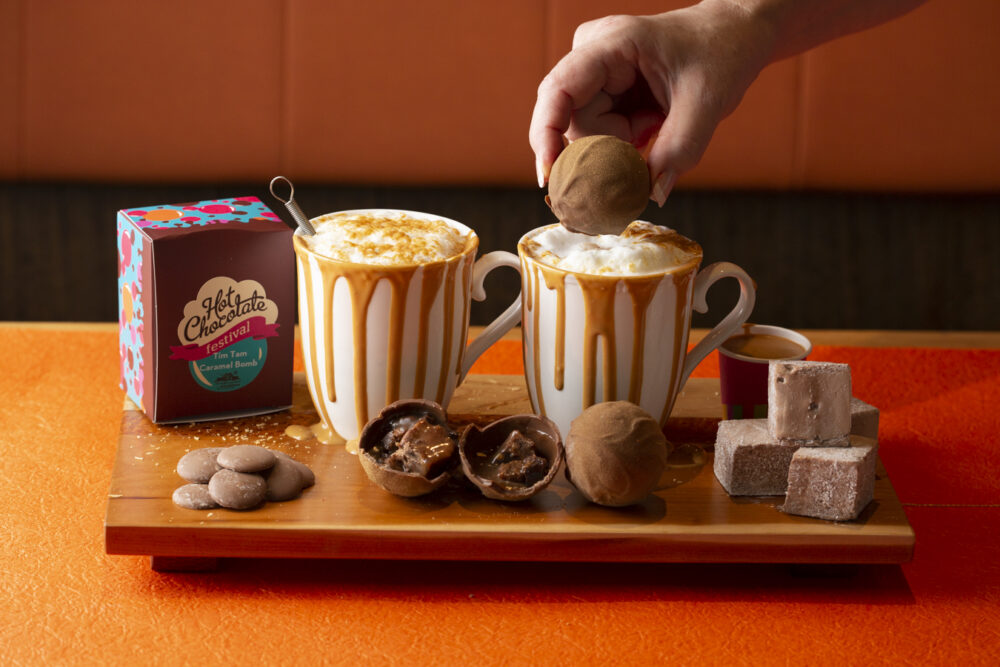 Our clever Chocolatiers made sure no matter what happened, you could always get your hot choc fix with our decadent DIY Kits.
Order the full set of our final menu of flavours or pick and mix your favourites – you'll be sent everything you need to whisk up your own Festival fun at home. Each kit comes with flavour infused chocolate melts, giant handcrafted marshmallow and totally OTT interactive elements.
Just add your choice of hot milk.
Place your order by midnight Sunday 12 September for our Festival Favourites to be delivered to your door.